Bellabeat Spring: This Bellabeat Smart Water Bottle tracks your water intake and gives hydration reminders!
Drinking water and staying hydrated is essential. You need water to stay healthy and eliminate toxins from your body maintaining healthy functioning of the body. Drinking plenty of fluids will make you think better, boost your energy levels, and help you lose some weight.
Table of Contents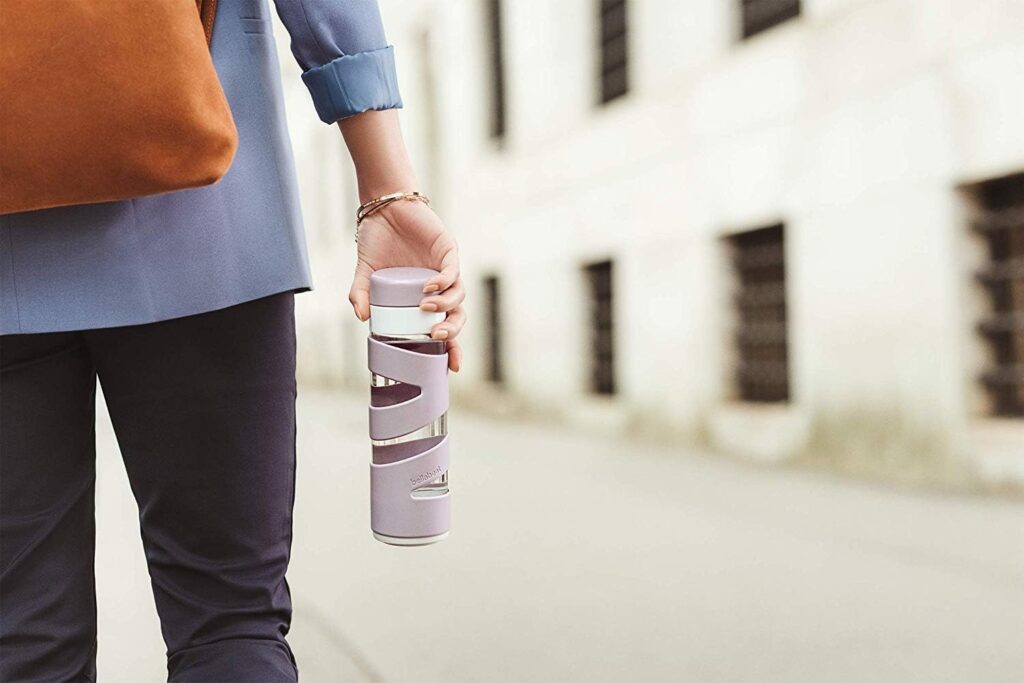 Unfortunately, according to the Doctors, around 75% of Americans suffer from chronic dehydration. Especially during summer, Health officials have always emphasized on the importance of body hydration. Since water is essential for the body for digestion to absorb vitamins and nutrients.
Bellabeat
Bellabeat is one of the largest women-focused tech companies. It is famous for Bellabeat Leaf i.e. a smart fitness tracking bracelet and necklace that was launched in 2014. They launched a revised version of the smart necklace and bracelet in 2016 with a different design called Bellabeat Urban. Another huge hit of Bellabeat is its smart water bottle.
Bellabeat Spring
The Bellabeat Spring is indeed a smart product. It measures your water intake goals on the basis of your age, height, weight, and weather. More interestingly, it also has an algorithm for breastfeeding or pregnant women. Bellabeat focuses on delivering women-specific products only and is a huge success.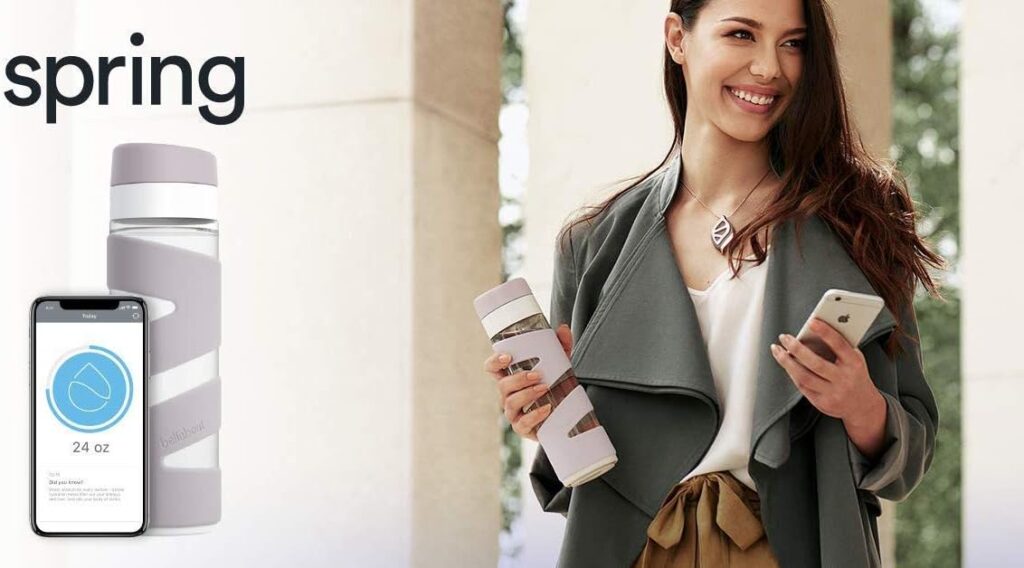 Design
The design of this smart water bottle is very chic and modern. It has a glass body with a rubber grip which works great when your hands are sweating. This Bellabeat smart water bottle is embedded with a sensitive scale. All these sensors are present at the base of the smart water bottle. With these sensors, Spring tracks how much water are you drinking. It also detects refilling and emptying of the bottle.
The Spring water bottle has a coined cell battery. This replaceable battery lasts from four to six months. It is synced with a Bellabeat app available both on iOS and Android.

Features of Bellabeat Smart Water Bottle
The interesting features Bellabeat Smart Water Bottle is famous for:
Water Intake Tracker
Drinking Reminders
Tailored Water Goals
Dishwasher safe
Bisphenol-A, BPA Free
14-day Memory
Wireless Syncing with App
Specifications Of Spring Water Bottle
The specifications of the Bellabeat smart water bottle are
The body is made of glass with Silicon rubber for grip
The height of the bottle is 9.1 inches, Diameter is 2.6 inches
The weight of the bottle is 0.93 lb i,e. 423 g
Volume is 16 ounces i.e. equivalent to 473ml
Compatible with iOS later than 9 and Android later than 4.3
It requires no wires. It syncs with the phone via Bluetooth.
It has a replaceable coin battery, which lasts for 4-6 months
On purchase, the Spring smart bottle comes with one CR2450 coin cell battery.
Using the Bellabeat App
We should drink plenty of water every day for healthy well-being. The Spring encourages you to drink more and more water by sending reminders according to your personal data.
Download the Bellabeat App.
Sign up and create a new account by answering questions like your date of birth, height weight, etc.
By default, this app has been set to give you a water reminder after every two hours. You can also adjust the reminder by yourself.
Whenever you will shake the Spring water bottle. It will sync your water drinking data with your smartphone.
Conclusion
No more confusion and no more headaches caused due to dehydration. Get this Bellabeat smart water bottle and develop healthy hydration habits. This Bellabeat Smart water bottle; Spring is available to shop on its website for $79. It is one of the best smart techs for a healthy lifestyle.