Everything matters when it comes to your home decor. With a distinctive shape and aesthetic look, Curtains for arched windows can serve as the center of attraction in any room.
Table of Contents
Windows are generally considered as a home's eyes since they help it to look out onto the outside surroundings while also letting in natural light and fresh air. So, it is essential to pick suitable curtains that not only enhance the look but also provide privacy to your living space. In order to elevate your home décor we will help you to achieve these unique traits for choosing curtains having arched windows.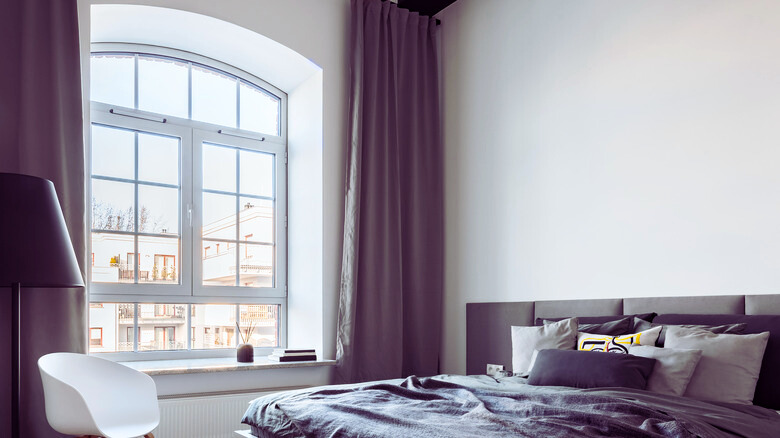 Arched Windows
In contrast to the typical rectangular shape, arched windows have a curved or semi-circular design at the top, often known as arch-top windows or round-top windows. Since the Roman and Gothic times, these windows have been utilized in buildings. They are still in trend today due to their attractive appearance and ability to give a space a unique look.
Arched windows come in a variety of designs, such as full-circle, half-circle, elliptical, and more. Arched shape windows come in a variety of designs, such as full-circle, half-circle, oval shape, and more. Each style adds a touch of unique charm to the living space. However, it can be hard to choose the appropriate curtains because of their unusual shape.
Curtains for arched windows are particularly designed for these unique shapes. Let's explore some points to be considered specifically for arched windows with their benefits, styles, materials, and installation, and help you to make the best choice to enhance your living space.
Choose the Right Curtain Style for Arched Windows
Sheer Curtains | Simple and Stylish
For arched windows, sheer curtains are the best choice. These curtains help to retain privacy while letting in some natural light in the room. Its soft and delicate fabric gives an elegant look to the room. For a classical look, consider installing sheer curtains in white or pastel color.
Velvet Curtains
Consider using velvet curtains for a more luxurious look. Their rich texture and deep shades have the ability to create dramatic expression. Velvet curtains are ideal for bedrooms or living rooms since they not only provide privacy but also create a cozy environment.
Roman Shades Curtains
Roman shades are an excellent choice for windows with arch shape. They may be tailored to exactly suit the shape of the window and are available in a variety of materials, including cotton and linen. These colors are great for creating a neat, elegant look because of their traditional, tailored appearance.
Measuring and Installation of Curtains for Arched windows
For choosing curtains for Arched windows, it's essential to measure precisely before buying drapes. Start by determining the arch's width and height, taking into account both the curved and straight sections. This accuracy ensures the best fit and a professional appearance.
Many companies offer customized curtains for arched-shaped windows; you can order them according to the width and height of the windows. The customized option ensures that the curtains perfectly match the distinctive shape of your window.
It can be challenging to hang curtains on arched windows. To ensure that the curtains are hung precisely and uniformly, it is advised to take the help of a professional person. A well-done installation not only improves the look but also guards against harm to the window or the curtains.
To keep curtains neat and clean, it is important to maintain regular cleaning. Dust particles can accumulate over time, particularly on sheer and velvet curtains. Gently vacuum or shake them out to maintain their freshness.
Conclusion
Curtains not only serve as window treatments, they also contribute significantly to the design of your house. Arched windows become attractive when styled perfectly and measured precisely. Whether you prefer the unique elegance of sheer curtains, the royal look of velvet, or the traditional appeal of Roman shades.
Spend money wisely on high-quality curtains for arched windows, and see how they change the appearance of your home.