Using a reusable water bottle like the Stanley water bottle is an excellent choice to keep yourself hydrated and also a sustainable one reducing the use of single-use plastic bottles.
Table of Contents
Water is essential for our overall health and body functioning. Drinking water is not just about quenching your thirst. It's also about maintaining your body organs functioning. Using single-use plastic bottles harms our environment since plastic takes years to decompose, harming the ecosystems.
Importance of Staying Hydrated
Water is a fundamental part of the human body. Our body is composed of around 60% of water and has a major role to play in the proper body functioning. Water is important for
Digestion helps in the absorption of nutrients
Circulation of oxygen
regulation of body temperature
removal of toxins from the body
muscles functioning
lubricates joints
maintaining a healthy skin
Whereas dehydration can lead to fatigue, difficulty in concentration, irritability, and mood swings. Drinking less water can also cause problems like urinary tract infections, constipation, and kidney stones.
In this article, we will discuss the benefits of using Stanley water bottles to achieve the goals of hydration and eco-friendliness.
Stanley Water Bottle
Stanley water bottles are a win-win option when you are looking for a reusable water bottle that benefits both the environment and your health.
It is a convenient and reliable source of water keeping you hydrated throughout the day. Stanley water bottles maintain the temperature of your drink for up to 24 hours making it more appealing.
The Brand: Stanley
The Stanley aka all steel flask was first invented by William Stanley in 1913. The Stanley bottle was also used during World War II. They initially gained recognition for vacuum bottles Over 100 years, Stanley has continued to bring products keeping the warm liquids warmer and cold ones cold.
You can also read about the Larq Water bottle!
Why Choose Stanley Water Bottles?
Commitment to Sustainability
Stanley has always understood the importance of reducing single-use plastic waste. Their bottles and cups are made of stainless steel and are reusable. Yes, stainless steel can be recycled.
Durable
Stanley water bottles are famous for their durability. They are made of high-quality stainless steel. This material can withstand wear and tear from daily routines to outdoor adventures. They are built to last for years!
Insulation Technology
Stanley tumblers and water bottles come with thermal insulation technology. Whether you plan to take hot chocolate to the office or want to keep your orange juice cooler. Stanley Insulated water bottles are the best option.
Eco-Friendly
Stanley is committed to being environmentally friendly and reducing carbon footprint. Their bottles are designed to last long, reducing single-use plastic.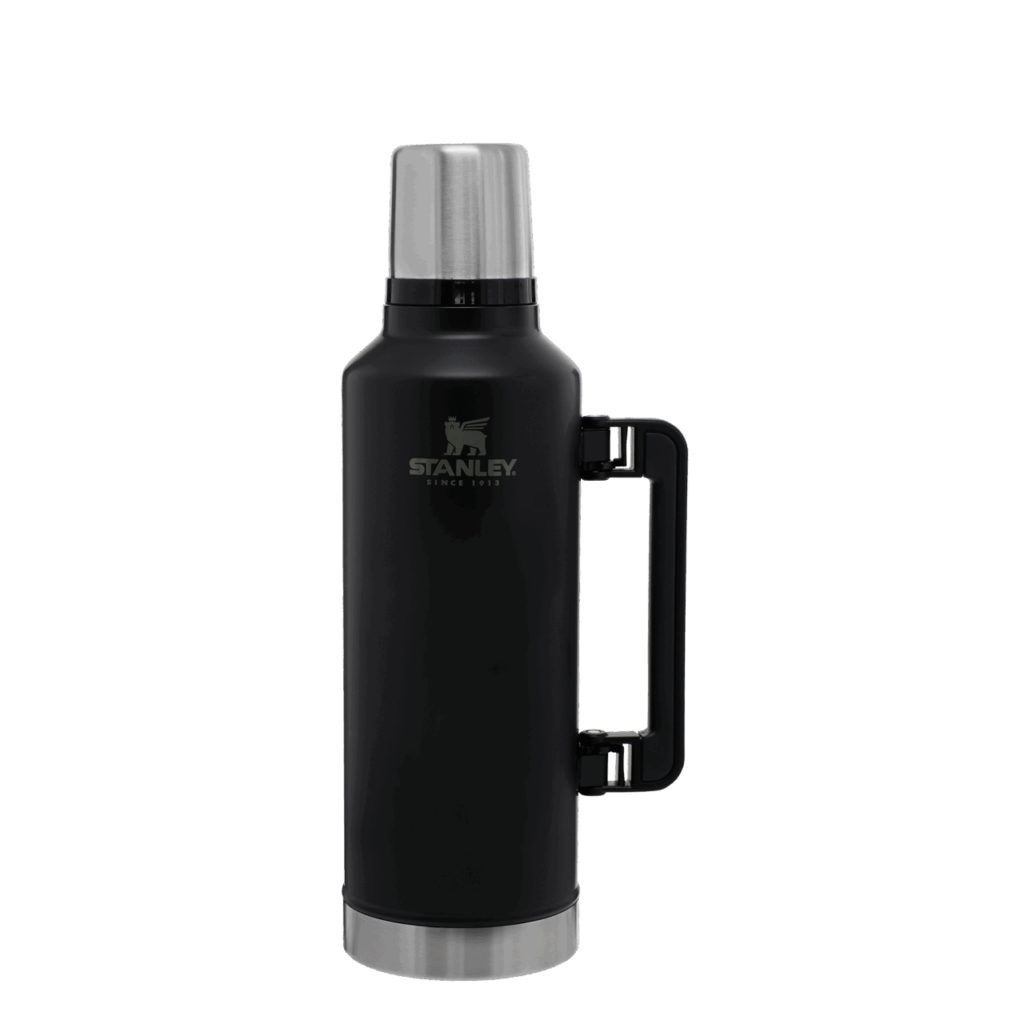 Types of Stanley Water Bottles
The brand Stanley offers different types of water bottles catering to various public demands. Some of the most popular Stanley water bottle series are
Vacuum Water Bottles
The classic vacuum Stanley water bottles are the most famous ones. They come in different colors and sizes. Stanley vacuum bottles have a rugged body and are leak-proof. They are perfect for your cold and hot drinks being a perfect companion for outdoor activities.
The Quencher
Stanley introduced its Quencher series for its buyers who are adventure lovers. These bottles come with easy-to-carry handles and straws. Whether you plan to go hiking or plan to the gym, Stanley Adventure Quencher is your partner for it.
Quick Flip Go
The Go series of Stanley bottles are made for individuals who are on the move. These bottles are slim and compact and fit in the cup holders and bag pockets easily. Buy It Today!
Features Of Stanley Water Bottles
Stanley water bottles always stand out because of their exceptional features.
Different Sizes
Opting for Stanley bottles. A variety of sizes are available from small 16-ounce bottles to large 64-ounce bottles. You can choose any bottle size according to your hydration needs. All of these bottles have vacuum insulation, preventing heat transfer.
Variety Of Lids
Stanley water bottles have a range of lids according to your needs. You can choose from flip lids, straws to screw tops. Regardless of which lid you choose, these lids are leakproof.
Colors
Stanley water bottles come in different colors like black, blue, green, orange, purple, white, brown, etc. You can choose the design and color that matches your style.
Easy To Clean
It is very easy to clean a Stanley water bottle. These bottles come with wide openings making it easy to clean every nook. These water bottles are also dishwasher safe, making cleaning effortless and saving time.
Make sure you rinse the water bottle after every use. Use a bottle brush to clean it easily. Once a week, you should deep clean the bottle by removing the gaskets. Wash it with warm water and mild soap. Remove the lid of the water bottle and let it air dry.
Stanley Water Bottles Vs HydroFlask Vs Klean Kanteen Vs Yeti Rambler
Standley stands out in every comparison. Its insulation performance is just like Hydro Flask but is still more durable. Klean Kanteen focuses only on eco-friendliness whereas Stanley comes with a lot of features. Moreover, It is tough like the Yeti Rambler with a rugged body.
Conclusion
Yes, Stanley water bottles are the best when you want a bottle of quality, that is durable and innovative. Whether you plan for a hiking trip or want to hit a gym, Stanley is the trusted eco-friendly reliable companion for you!
FAQs
Can you put carbonated drinks in Stanley Vaccum Bottles?
Stanley doesn't recommend you to use carbonated drinks in their products. This is because carbon dioxide can put pressure on the lids. So you have to be careful.
Are Stanley Water bottles dishwasher safe?
Yes, they are dishwasher-safe. You can still check the bottom of the Stanely product to see the instructions.
Are Stanley Water bottles microwave-safe?
Nope, since these water bottles are made of stainless steel. You can't use them in the microwave. Even if a bottle is made of plastic, the hinges or handle might be of stainless steel and you might damage your product.
How to clean the gasket of the Stanley bottle?
It is recommended to use vinegar or lemon juice to clean the gasket of the bottles. Soak them in the mentioned liquids and then wash it with warm water. Let it dry.