Curtains are adaptive home décor items that may change the environment of any room. Your living
areas can feel luxurious, cozy, and romantic when curtains are arranged properly. Hanging curtains
behind bed is one example of a creative curtain usage. This design option boosts the overall appeal of your bedroom while also serving practical needs.
Table of Contents
The benefits, design options, and ideas for obtaining a stunning bedroom makeover will all be covered in this article as we dig into the fascinating world of curtains behind the bed.
Benefits of Hanging Curtains Behind Bed
Aesthetic Appeal
The aesthetic look of curtains behind bed in your bedroom is one of the main reasons to think about
installing them. They turn a regular bed into an elegant haven by creating a striking and welcoming focal point.
Source of Light Control and Privacy in the Room
Curtains behind bed are the best option for controlling light and privacy in the room. They are simple to adjust so you may let in natural light during the day and create a relaxing atmosphere for a sound night's sleep.
Room Divider
In certain bedroom designs, curtains can serve as a room divider, effectively dividing distinct functional areas —such as a sleeping area and a home office or dressing area —within the same room.
Sound Barrier
Your bedroom can become quieter and more pleasant with the help of thick, heavy curtains. This is
especially useful in urban settings. Curtains behind bed act as a source of sound absorption in the room.
Styles
There are many curtain styles to pick from when it comes to the curtains behind the bed. Some of they are mentioned here.
Sheer curtains
Sheer curtains behind bed offer your bedroom a beautiful, ethereal feel. They provide the room with
warm, dreamy lighting by diffusing it. For a truly stunning appearance, pair a canopy bed with sheer
curtains.
Dramatic Appearance
Floor-to-ceiling curtains made of rich, lavish fabrics like velvet or silk convey a dramatic and luxurious
look. These drapes express magnificence and make a bold fashion statement.
Dual-Purpose Headboard
Use a curtain rod to hang curtains behind your bed instead of a typical headboard. This design selection gives your bedroom decor a distinctive twist and makes it simple for you to switch out the curtain colors and patterns.
Layered Style for curtains behind bed
Your bedroom may create depth and texture by layering curtains. You may keep your privacy while adjusting lighting using sheer and blackout curtains.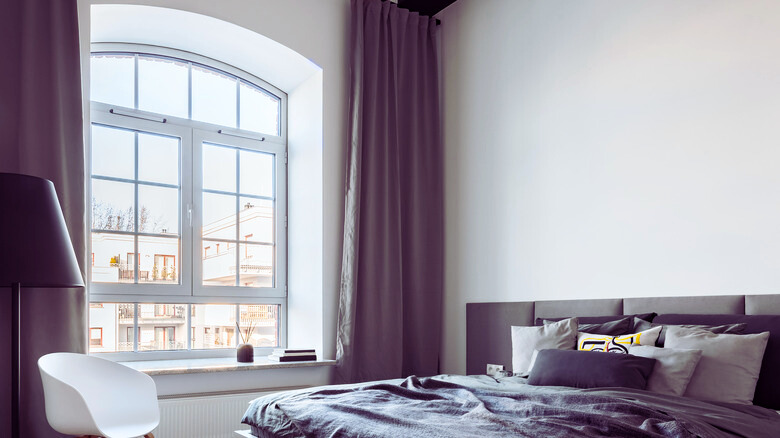 Some Other Tips to Achieve a Stunning Look
Select a Suitable Fabric
Pick curtains that go with the overall décor layout of your bedroom. While rich textiles like velvet or jacquard produces a more extravagant environment, light, airy fabrics like chiffon or linen work well for a gentle, romantic style.
Think About the Curtain Length
Make sure that the curtains behind bed are long enough to give a good aesthetic impression. For a pleasing look, they should ideally touch the floor only a little bit.
Set a Curtain Rod
Make sure the curtain rod or clip you choose can support the weight of the curtains you want to install. For both safety and aesthetics, proper installation is essential.
Color and Pattern Coordination
While choosing curtains behind bed it is important to match the curtains' colors and designs to your
bedding, wall color, and other bedroom accessories. Carefully select your accessories to complete the appearance. A few instances include curtain rings, tassels, and tiebacks. These small changes have a significant impact on how your curtains look.
Maintenance of Curtains Behind Bed
To keep your curtains looking their best maintain them on a regular basis. To ensure a lifetime of fabric quality, keep the curtains clean and dust-free according to the supplier's care instructions.
Conclusion
Curtains behind bed provide an appealing mix of beauty and practicality in bedroom design. They
enhance the overall mood of the space in addition to allowing privacy and light control. Curtains behind the bed enable you to express your individual style and make a perfectly inviting and lovely hideaway to escape to every night, whether you want a dreamy, sheer look or lavish, dramatic drapes. You can create an environment of elegance and relaxation in your bedroom by carefully picking the fabric, length, and accessories.