Colorful Shower curtains might seem to be a small aspect of your bathroom's decor, but they can significantly affect the room's overall appearance and ambiance. Choosing colorful shower curtains is one of the best ways to give your bathroom a little more life, personality, and style. These curtains can transform a dull bathroom into a vibrant and pleasing retreat and are more than just utilitarian; they act as an empty canvas for your imagination.
Table of Contents
How to choose the ideal shower curtains for your bathroom will be covered in this article along with the advantages of colorful shower curtains as well as their various design alternatives.
Advantages of Colorful Shower Curtains
Bright shower curtains
Colorful shower curtains are a great way to add some distinctiveness to your bathroom. Your bathroom may feel like a true extension of the interior design of your house as it represents your preferences, interests, and style.
Instant Transformation of Bathroom
A vibrant shower curtain is the best option if you want to quickly update your bathroom without going through the trouble and expense of extensive transformation. It may drastically change the atmosphere of your bathroom.
Enhancement of Mood
Colors have a significant influence on our emotions and mood. Your mood can be boosted and daily rituals can be made more fun by using bright, vibrant hues. On the other hand, a peaceful bath in the evening can be made more relaxing by using warm colors or pastels.
Colorful Shower Curtains offer Versatility
Shower curtains in bright colors are very versatile. Whether you have a cozy, traditional bathroom or an elegant, minimalist one, they can go with a wide range of bathroom themes. You are able to choose one that complements the design of your bathroom, thanks to the huge variety of colors and designs that are offered.
Some Design Options
Solid Colors
You can choose a solid-colored shower curtain if you desire a sleek and modest appearance. If you're seeking to create an eye-catching focal point in your bathroom, consider a color that contrasts sharply with the existing decor.
Colorful Shower Curtains with Stripes and Patterns
Stripes and patterns provide visual appeal to your bathroom. Vertical stripes can create an appearance of height while horizontal stripes can open up your area. Depending on what you prefer, floral, geometric, or abstract designs can offer a touch of charm or enhancement.
Nature-Inspired Designs
Shower curtains that are inspired by nature let you bring the outside in. Calm and regenerating environment can be produced by images of forests, shores, or undersea landscapes.
Artistic effect
Choose shower curtains with artwork or other creative motifs. This can be a wonderful way to show off your passion for art or to provide your bathroom with a distinctive, artistic vibe. These drapes are fascinating to the touch in addition to being pleasing to the eye.
For the selection of the best colorful shower curtains, here are a few tips…
Examine the Color scheme of the Bathroom
Analyses the color scheme that is currently in use within your bathroom. Consider a colorful shower curtain color that complements or enhances the room's main elements. While opposing colors can make a powerful impression, integrating colors create a uniform appearance.
Maintenance of colorful shower curtains
Regarding maintenance, bear in mind that colored shower curtains may exhibit stains and watermarks more easily than plain white ones. Consider patterns or prints that can assist or hide slight stains if you prefer a low-maintenance choice.
Size and Quality of colorful shower curtains
For selecting an appropriate size shower curtain, measure the space around the shower or bathtub. Standard sizes normally come in 72 inches x 72 inches, whereas there are also custom substitutes available.
Spend in a high-quality colorful shower curtain because quality matters. To ensure durability, consider purchasing curtains made of strong materials like cotton or linen mixes. A shower curtain that is built well will hold up to constant use and keep its bright colors.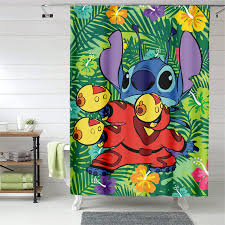 Conclusion
Colorful shower curtains with different patterns are a great way to brighten up the design of your bathroom. They have many benefits such as allowing you to personalize your environment and rapidly changing the way things feel. You can choose the perfect curtain to match your style and aesthetic from a variety of design options. So go forward and make your bathroom a haven of comfort, innovation, and enjoyment by adopting style and elegance with a colorful shower curtain.