Being environmentally conscious is hot these days and designer brands have also jumped on the bandwagon. There are many cheaper ways to keep yourself hydrated but now you can also choose to drink water in Prada Water Bottle. Maybe the water might even taste better in it!
You would expect luxury brands to come up with new footwear, handbags, sunglasses, etc. But designers have turned on their creativity mode. Designers have emblazoned their logos on the accessories that you wouldn't expect. Be it a Fendi leather hand sanitizer holder, Bottega Veneta Airpods Case, Prada lunch box, or Off-White's hairbrush.
Table of Contents
Being vocal about the sustainable environment-friendly many designer brands have come up with steel water bottles. This upgrade from plastic to steel is necessary to cut down the plastic waste. Water bottles indeed play a big role in non-biodegradable waste. You can either opt for stainless steel bottles from Yeti, Tal, or LARQ. Or opt for luxury brands like Fendi, Prada, and Jacquemus water bottles.
Prada Water Bottle
Prada water bottle is undeniably chic. It has a compact size and can be stored in the bag easily. It has a super sleek plain look with the iconic brand Prada logo on it, making water bottles a fashion accessory.
The Prada water bottle is made of high-quality stainless steel. The steel is well-insulated to keep your drinks hot or cold for hours. The twist-off cap gives you easy access to drink the water. They usually come in two sizes i.e. 350ml and 500ml. The Prada water bottles range from £170-£200 and are perfect for your daily routine. They are available at Selfridges and some models are also available online.
Best 5 Designer Water Bottles You Should Buy
Dior Water Bottle
I just loved the Dior Water Bottle. This bottle is made with palladium-finish stainless steel. The Dior Logo and motif have been laser-etched on it. The bottle comes with a nylon shoulder strap in an off-white color. You can wear the bottle crossbody too.
Jacquemus has also come up with Porte Gourde Bottle Holder for your water bottles.
Balenciaga H20 Bottle
Balenciaga water bottle in black has a sleek matte black design. This stainless steel flask has a capacity of half a liter. It has a plastic loop attached to the lid so you can hold it easily. H20 artwork is printed at the front and the Balenciaga logo at the back.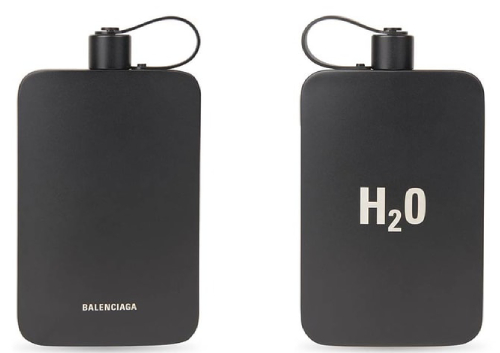 Fendi Flask
Stepping up the game of sustainable water bottles. Fendi came up with a stainless steel flask with a woven straw holder. It has a Fendi Roma embroidered on it. The water bottle holder strap is long and can be worn as a crossbody.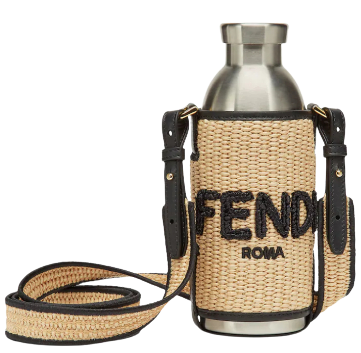 Loewe Paula's Ibiza x Sigg water bottle
This water bottle comes with a bohemian charm. This black metal bottle is a collaboration with Sigg, a Swiss bottle specialist. It has colorful parrot motifs on it. The screw-lid cap comes with a strap made of embossed leather.
Marine Serre Water Bottle
Marina Serre is a Parsian brand. This silver bottle comes with a black water bottle holder. The bottle has the brand name Marine Serre printed on it. Whereas the bag has a logo and is fastened with a detachable chain link.
Conclusion
Its time to say bye to the single-use plastic water bottles and opt for reusable water bottles. And while you are thinking of buying a good quality water bottle. Why not take the water bottle game to the next level with a stainless steel designer water bottle? Moreover, you can get a Jacequemus or Burberry water bottle holder. Hence Hydration is a must-have accessory this season!
Stay hydrated with style by drinking water from Stainless Steel Insulated Water Bottle designed by Prada.