If you want to stay well hydrated, consider using one gallon water bottle. It is a giant vessel with a capacity of 128 ounces of liquid. It is a good option for hiking, gym sessions, and beach days. It is also one of the best ways to push yourself for good water intake.
In the market, the most common size of a water bottle is 16.9 ounces (oz). Want to know how much is 1 gallon of water in bottles? One gallon water bottle has a capacity of 128 ounces. So, one gallon water bottle is equivalent to eight 16.9 oz of water bottles. Though eight water bottles seem like a big amount to drink, their benefits are worth a try.
Table of Contents
Benefits of Drinking One Gallon Water Bottle
One gallon water bottle is a perfect companion for a family beach trip or friends traveling and camping plans. If one person sets a goal of drinking one gallon of water bottle. It has the following amazing health benefits.
Boosts your Energy: It will make you feel fresh. Since water increases blood circulation making you feel energized.
Regulates Body Temperature: Water helps in maintaining the body temperature. For example in hot weather, you sweat which cools down your body temperature.
Glowing Clear Skin: Water flushes out toxins from your body. Hence it makes your skin clear and glowy.
Aids Digestion: It also helps in the digestion process, moving and flushing out solid waste.
Improves Brain Functioning: It enhances cognitive ability and improves your memory making your brain robust.
Weight Loss: Drinking a gallon water bottle will make increase your metabolism and will make you feel full. Hence you will eat less.
5 Best One Gallon Water Bottle 2023
What type of one gallon water bottle you want depends on your usage. If you want a bottle that keeps your beverage hot or cold. Opt for an insulated stainless steel water bottle but yes they are a bit pricy. If you want an affordable and lightweight one gallon water bottle. You should buy a plastic bottle then.
Here we have listed the 5 best gallon water bottles available in the market.
Yeti Rambler is made up of Kitchen-grade 18/8 stainless steel. It has a double-volume vacuum-insulated body that will keep your liquids hot or cold for many hours. Yeti Rambler Water bottle is BPA Free and is also dishwasher safe. It has a no-sweat design, keeping surfaces safe from water condensation. It has a height of 15 inches and weighs 4.5 pounds.
The Hydro Flask Oasis is another great stainless steel gallon jug. Its performance and insulation make it a close rival to the Yeti Gallon Water bottle. It is as big as 14.8 inches with a weight of 4.96 pounds. A large and heavy stainless steel bottle that maintains the fluid temperature for up to 24 hours. Though its handle is not durable like Yeti.
3. RTIC One Gallon Insulated Stainless Steel Jug
If you are looking for an affordable one gallon water bottle, stainless steel. RTIC has a wide mouth lid that facilitates easy cleaning and refilling. It is also made with kitchen-graded stainless steel and weighs around 3 pounds. It is not dishwasher safe though.
The Coleman 1 Gallon Water Cooler has a flip spout at the top, like the one we used in childhood. It has thermOZONE insulation, that keeps liquid cold even in hot weather. Its handle is very durable and easy to carry around. The Coleman One Gallon water bottle height is 12.8 inches.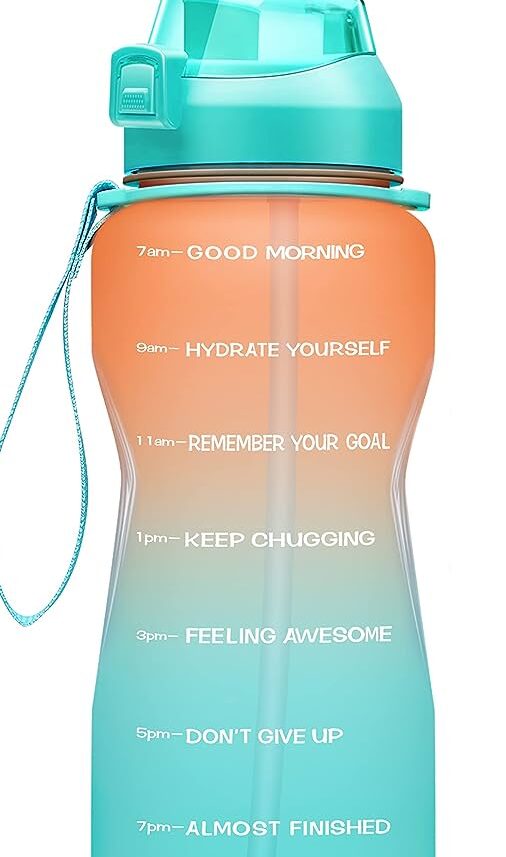 It is a trendy BPA-free plastic gallon water bottle with motivational quotes and markers to keep hydration goals set. It has a slim body for easy hand grip. It is gallon water bottle with straw and a spout. It is covered with a lid to keep it dust free. Its height is 13.8 inches and weighs just 0.83 pounds.
Conclusion
Hence drinking sufficient water every day is very important for good health. Instead of buying a new small bottle every day, it is better to buy a one-gallon reusable water jug. Some of the best one-gallon water bottles available in the market are mentioned above. You can order them online also!